'Architectural Record' Magazine Centerfold Features Ellison Doors at Devon Energy Center
As seen in 'Architectural Record' Magazine October Issue | Articles by Steve Lackmeyer and Beth Broome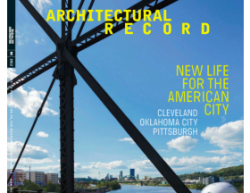 Even with temperatures in the low 100s, Oklahoma City residents gathered in droves this summer to enjoy weekly outdoor movies on a grand lawn just beyond the glimmering new 50-story Devon Energy Center and marvel at the ongoing transformation of their downtown.
Oklahoma City, a sprawling, vehicle-addicted community long known for big-box architecture and chain stores rather than boutique shopping and style. is celebrating a renewed emphasis on architecture and design. Adowntown declared dead in 1989 by city-council members is now home to a growing population that routinely gathers for independent film screenings. live musical performances. and other cultural events. It has not just survived but thrived through the "great recession" of 2009. It ranked seventh in the nation for private-job growth between 2010 and 2011, with a 2.75 percent jump of12,000 new jobs (and placed third, at 3.68 percent, for new retail jobs). Population growth last year ranked 34th nationally, while a 4.9 percent unemployment rate is the lowest in the country among metropolitan areas with more than 1 million residents. OKC once briefly lost its orchestra, yet recently ranked in the top 10 percent of all U.S. cities in arts and entertainment employment. A mix of energy companies, aviation, and biosciences firms are credited with placing the metropolis of l.2 million atop this year's Gallup Job Creation Index.
At the heart of it all, the new Devon Energy Center (page 86) punctuates a skyline undergoing dramatic change, and another $100 million redevelopment is under way nearby at SandRidge Energy. To the south, sleek, sharp-edged boat·houses now line the once-derided Oklahoma River, home to a growing mix of amateur, collegiate, and Olympic rowing enthusiasts. 
...R
ead the full story on 
archrecord.construction.com.