Ellison Bronze Launches New iPad Application
Free Interactive Tablet Brochure Allows Users to Easily Access Comprehensive Company Resources
Tuesday, February 12, 2013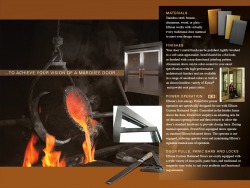 Ellison Bronze, Inc., the inventor of the balanced door and provider of the highest quality marquee entrances in the industry, announces the release of a new iPad app – an interactive brochure that provides a wealth of information about Ellison Bronze and its products.
'Ellison Bronze – You've Arrived' allows users to easily explore the benefits of Ellison Bronze balanced entry systems. Tap-to-zoom photography and text, video playback and interactive features give an inside view of the rich history, supreme mechanical advantage, intricate door anatomy, limitless design possibilities and unparalleled craftsmanship offered from Ellison Bronze custom balanced entry systems.
 "The introduction of our tablet brochure allows us to stay at the forefront of the industry," said Mark Graves, President of Ellison Bronze. "Everyone who downloads the app will have more detailed information about our company and entry systems, along with beautiful visuals, at their fingertips."
The new interactive brochure serves as a useful resource for architects, installers, contractors, and other industry professionals who want to learn more about the unique Ellison balanced door system. The interactive tablet brochure is free for download in the Mac App Store.
Like Ellison on Facebook: http://www.facebook.com/EllisonBronze.